.
A song from our Abbey cat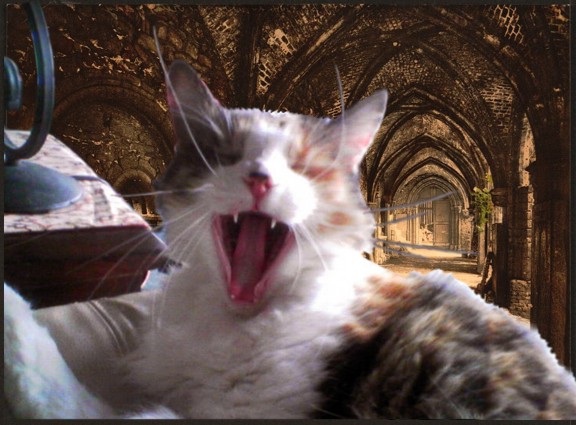 Te Deum?
A little oratorio from the choir. (Abbey's a soprano.)
I just had to post a picture of my sweet Abbey. She's a 'rescued from the pound' cat and I wish I could tell her formers that she is well and loved. Apparently they had to give her up with a forced move. Unfortunately she was nine years old during kitten season so that made the 'find a home' thing tough. She'd been in the kennel almost three weeks when we opened the door to say hello. She looked over her shoulder at us and meowed with chastising mix of mourning and great relief as if to sat "Finally! I've been waiting for you for sooo long." She was mine from that second, and her name, Abby (I changed the spelling to 'Abbey' on the adoption papers), just made it all seem that much more perfect. I'm sorry to say, however, that though she is very vocal, her crackly, raspy meowing voice is perhaps not the most beautiful. The clear-toned Siamese cats would hoist their tails at the noise and stalk away. She sounds like a two-pack-a-day smoker, like she spends more time in a shrouded speakeasy than a vaulted cathedral. But I think she's a good kitty--she just curls up too close to the incense censer, perhaps.