This map (below) comes from
The Home of the Monk
by Rev. D. H. S. Cranage, published in 1926 . This map is
part of the public domain.
Haverfordwest Priory



The plan is founded on those by Mr. A. W. Clapham and Mr. Ernest A. R. Rahbula in

Archaeologia

Cambrensis

(December 1921 and 1924). It is printed here by permission of Mr. Clapham and the Cambrian Archaeological Association.


Houses of regular canons [see

Monastic Orders

], whether Augustinian as in this case or Premonstratensian,

are often smaller and less important than those of the Benedictine, Cluniac, and Cistercian Orders. Some of the churches are aisleless and some have only one aisle.


The buildings date mainly from the thirteenth century, with some additions of later periods. The claustral


ranges [enclosed buildings] are of normal character. The kitchen is rather farther from the frater [dining hall] than usual. The position of the farmery [infirmary] was always a matter of local convenience, the quietest part of the monastery being chosen.



Rev. D. H. S. Cranage

, page 112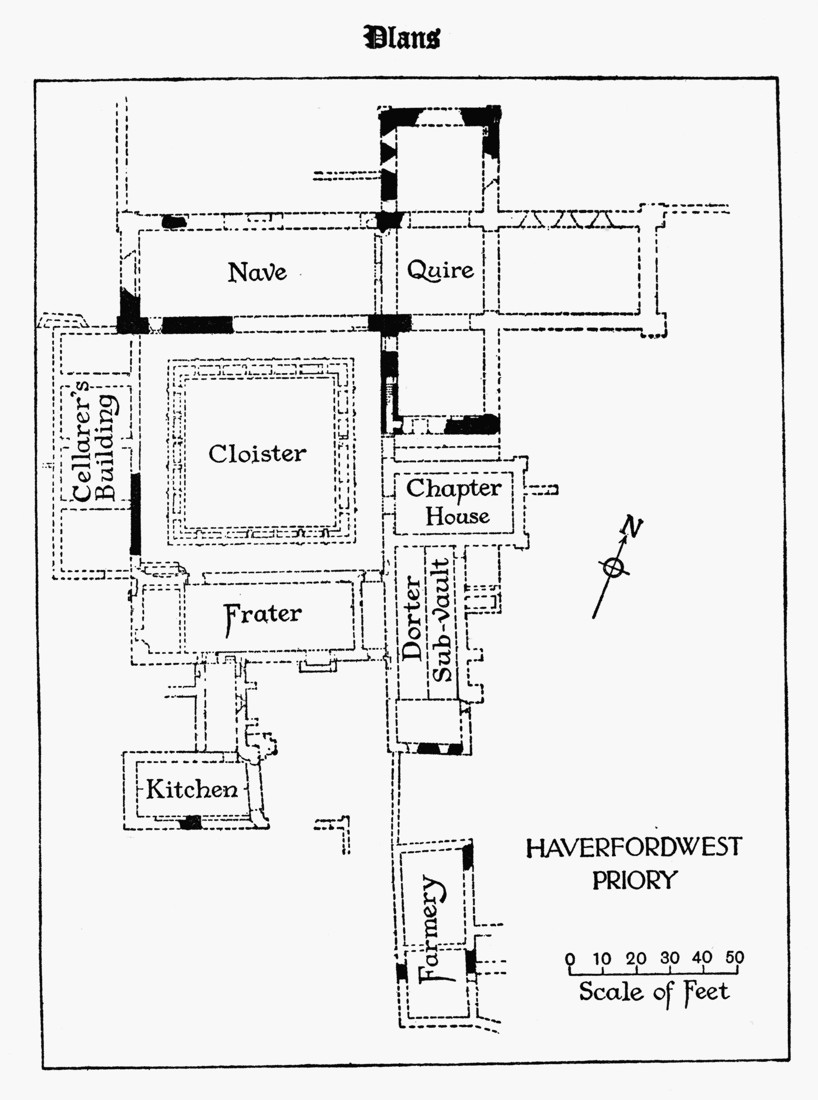 ---
Historyfish pages, content, and design copyright (c) Richenda Fairhurst, 2008
All rights reserved. No commercial permissions are granted.

The Historyfish site, as a particular and so unique "expression," is copyright. However, some (most) source material is part of the public domain, and so free of copyright restrictions. Where those sections are not clearly marked, please contact me so I can assist in identifying and separating that material from the Historyfish site as a whole.

When using material from this site, please keep author, source, and copyright permissions with this article.

Historyfish intends to generate discussion through shared information and does not claim to provide, in any way, formal, legal, or factual advice or information. These pages are opinion only. Opinions shared on historyfish are not necessarily the opinions of historyfish editors, staff, owners or administrators. Always consult proper authorities with questions pertaining to copyrights, property rights, and intellectual property rights.

It is my intent to follow copyright law (however impossibly convoluted that may be). Please contact me should any material included here be copyright protected and posted in error. I will remove it from the site. Thank you.
---